Numerology of the House Address — Home 6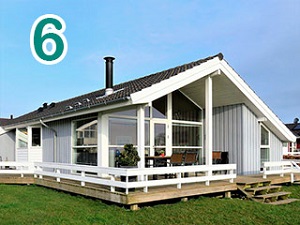 Number 6 provides harmony in your house. It is full of warmth and beauty. This house seems attractive and convenient even when it is empty. People in this house have an eye for aesthetics and pay attention to the design and atmosphere there. In this house you will want to take care of the dearest people, to spend there more time and have great dinning there. Every house with number 6 is very beautiful and it makes the people who live there invest in design and comfort more and more. It is an amazing home for families with kids and for young couples, as it sets the right atmosphere. However, any person will feel good there.
Flaws: It is a number of harmony and caring, however you might find yourself caring too much about everyone but yourself. You can work too much, have a big to-do-list. Try not to forget about yourself in order to maintain harmony in the house and in your life. Number 6 is at its best when everybody in the house feels happy. If you maintain harmony and avoid clashes and drama, you will have amazing life in this house.