Numerology of the House Address — Home 5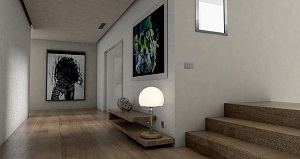 Number 5 is the house for you if you like company of others and socializing. It is an amazing place to have a party, to have a business meeting or to spend your holidays at. If you wanted to change your calm place into something more active and joyful, go for number 5. It is perfect for creative people and those who are initiative, active, direct and impulsive. If you want an active and cheerful environment, it is for you. It is rather for single people who are tired of routine and want something new. This house is great for students.
Flaws: It is a place where you will find no rest, as it is usually loud, active and energetic in different ways. It doesn't fit people who want to settle down and lead a calm life, who are tired and are looking for renewal in their life. It will be really difficult for people who are oriented on work and family to live in this house, as the atmosphere there is really changeable and impossible to concentrate on any important task. It is a great house for temporary living or for a vacation. Also, if this number was derived from number 14, which is a karmic debt number, this house might influence your behavior, making you reckless, self-indulgent and lazy or tend to any addiction. It is important to stay focused in this case.