Numerology of the House Address — Home 4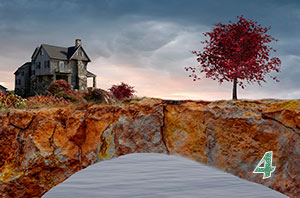 Number 4 house is similar to a fortress. If you want a place that has a very safe environment it is number 4. The energy is very calm, but strong, making sure the physical part is fortified. This house is good for people related to business and money, it favors investments of different kind, so education is welcomed as well. This is a place without distractions, where responsibilities are clear and your decisions are respected and supported. It is a great place if you look for a place to settle down, to become more disciplined and maintain stability. It is a home that gives you everything to work and live in peace.
Flaws: It is quite slow, as its main manifestation is stability. It is a place where you can work a lot, even too much, but it is not always needed. It might happen if you got number 4 out of number 13, which is a karmic debt one. It means that you might work hard, but not always fruitful. It is very important for you to harmonize the environment with positive and cheerful energy. Also, number 4 needs continuous care about its condition, as its vibes depend on the wellness of its structure, so you will need to take additional care of house with number 4.