Numerology of the House Address — Home 2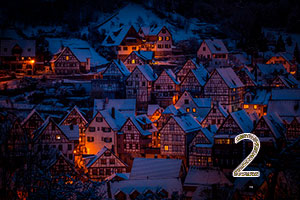 This is a home with warmth and love within, you can feel safe there and build your family there, as it possesses nice energy. It is a perfect house for people who aim to build family. It is a place to come back after long trips which always welcomes you. It is perfect to host friends and spend warm nights chatting about life and having late breakfast. Number 2 is a number of house for people who love spending time together and where everybody is free to express their emotions. Perfect for couples and family life.
Flaws: As number 2 is connected to strong emotional connections, people tend to express their emotions in a more dramatic way. Often you might feel tired after such emotional living and want to take a ride or a walk or even take a business trip in order to come back refreshed. In such houses people need constant approval from one another, each and every step should be encouraged, so people often compete for each other's attention. It is important to maintain balance in the house number 2, because instead of warm nest, you might have a bulk of nerves. Less drama, more direct conversations can help out.