The feng shui related to the creative process such as music, writing, painting and many more evolves creations of space for something, which does not exist yet.
For many artists, their artwork is the process of a baby birth that is expected but can be powerful, painful yet chaotic on occasion.
Unlike th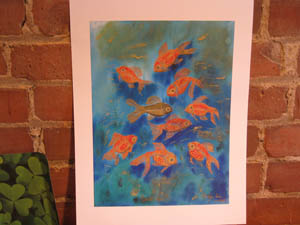 e popular thinking, Zen-looking serene space is not the ideal feng shui space. The ideal feng shui space needs to support the required energy levels for the specific activity or profession that the space is intended for use. However, if you are going to apply feng shui for your yoga and meditation room, you can use as much feng shui serene and peaceful energy as possible. However, if you are going for decorating your creative studio, you need to emphasis on different energy that is vibrant enough to support your flow of the creativity.
The ideal feng shui for your creative space have to emphasize both rhythms, that is conceptualization or planning time and the real manifestation time, as the creative process goes through these rhythms.
Example: as my work involves creative application of traditional feng shui for the client's spaces and write articles on the modern application of the classical feng shui; I have kept the wall colors, seating area and furniture in white color giving the impression of white canvas for the beginner's mind. My love for vibrant and bright yet calming colors have been taken care by the second layer where I have depicted vibrant art with bright colors and in some areas, whole wall has been decorated with inspiring images of magazines and specific quotations and many more things.
I keep my main desk absolutely clean, and the other lower desk surfaces hold my current projects and files I am working on. I manage to keep only current files in view by placing a very clear file sorting system. The tools that I need in my day to day work are kept in close proximity. The need for natural lights has been taken care by glass doors and big windows. Besides unique natural crystal formations, a number of aromatic herbs and plants have been used in decorating my patio. The whole setup is designed to keep vibrant fresh energy levels and help me replenish my energy levels while at short break from my work.
Anything that you don't need or haven't used for a long time is usually considered as clutter in feng shui. Irrespective of the arrangements and placing of such clutter, feng shui doesn't consider clutter to be good as the energy from such clutter interferes with the free flow of energy and thus drains energy from you.
Personally, specking, I do keep notes, photos, files, floor plans and other creative mess while working on the particular project as sometimes it becomes inevitable to work with these and even helpful to some extent. However, as soon as I am done with the project and move to the next step, I file everything properly. I don't like clutter but at the same time can't work or create in a sterile atmosphere.
You should apply the following feng shui principles for generating the best energy in your creative studios:
Consider placing elements from the nature such as lights, plants, rocks and many more.
Consider placing strong blocks of color and movement such as artwork, music, small fountains, etc.
Consider representing your successful projects.
Keep your tools perfectly organized.
You should create some space for no rules and can use this no rules area to stock all your unnecessary equipments without any restrictions. The only rules that can apply is to clean these areas at intervals that suit you.